Cantavia is a small select hobby kennel with currently three dogs in the house. The prime mover behind the prefix is a Master of Arts (majors both in English and Nordic Philology) and long time doggy enthusiast. I live in northern Finland and earn my living as a Technical Communication Lead. I also do some translating on the side and have published a Finnish-English-Finnish canine dictionary.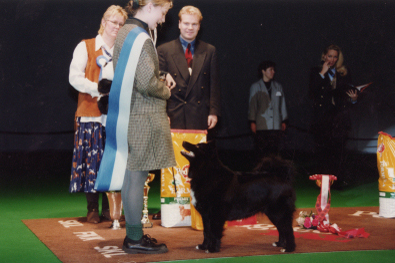 Copyright © Koirauutiset


My interest in dogs began when I was about eleven years old. One of my best friends, Heidi-Maria Puolakka, who I later shared a flat with, purchased a Finnish Lapphund puppy when we were twelve years old. It was a predominantly black dog with white markings, the cutest thing ever. His name was Ch Jäkäläkummun Rolle, and he lived a long life, almost reaching the age of seventeen. I got to know Rolle's relatives as well, among them his dam Ch Belladonna. She became the foundation bitch of the Jäkäläkummun kennel (owned by Tapio Kakko), where I eventually acquired my very first dog, NORD/FI/SE/NO Ch Jäkäläkummun Ensi-Lempi (a Bella great-granddaughter). This happened as late as in 1997, since due to my sister's allergy I was not able to keep any dogs before I left home.

However, the fact that I did not have a dog of my own did not prevent me from taking part in canine activities. Anna Reetta Lintelä, the owner of some top winning Maltese and Samoyeds at the time, happened to live in the neighbourhood, and I was a frequent visitor at her house. I started attending dog shows, and later on took up Junior Handling. As I did not have a dog of my own, I had to borrow one every time, and as a result I tried out many different breeds, such as the Tibetan Spaniel, Bichon Frisé, Sealyham Terrier, Samoyed, Borzoi, Welsh Corgi, Maltese, etc. However, the most memorable wins I gained with a Finnish Lapphund, C.I.B/FI/NO Ch Jäkäläkummun Kamomilla, who was still in the puppy class when we qualified for the Finnish Junior Handling Finals back in 1994. The finals were held in December '94, when Milla had just reached the ripe old age of 14 months. We were put through our paces by Paula Heikkinen-Lehkonen, a Finnish all-rounder, and much to my surprise and delight, we won. Needless to say, I was over the moon!




Copyright © Derek Whitehouse


As the national title holder, I was invited to take part in the International Junior Handling Finals held at Crufts in 1995. Of course, my first breed choice was a Lappie. However, dotting the 'i's and crossing the 't's of the Import Register restrictions ruled that out, and therefore I was given a Norwegian Buhund, Ch Reinark Duffy (who had gone Group-2 at the very show). I did not make the top ten, but it did not matter at all, I felt so privileged to even be there in the first place. What a great experience!

I turned 17 that year and consequently was no longer allowed to compete in Junior Handling. Naturally, I kept visiting dog shows and handled dogs for other people.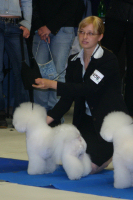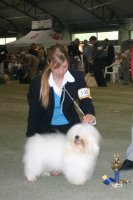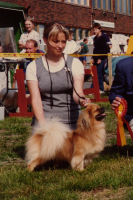 Copyrights © Marko Oja, Katariina Lahikainen, Lillian Petersen & Tiina Kaakinen


As mentioned above, I got my precious Lempi in 1997, just before my sixth-form graduation. Later that year I began my university studies and shared a flat with Heidi-Maria and her dogs Rolle and Ch Jäkäläkummun Karrikippari 'Karri', a speciality BOB winner. In 1998, I left for Denmark and spent six months there studying at the University of Odense. Of course, I kept up with doggy activities, thanks to Sarah and Sonia Brandes of the Lapinlumon kennel. After the six-month stay in Denmark, I took off again and landed in England. I spent another six months in Cornwall as a kennel maid, taking care of Lappies owned by Clive and Dorothy Muzzelle of the Chelville kennel.

A year after I returned home from England I acquired Hertta (FI Ch Orso-Farm Qumina) to keep Lempi company. Sadly Hertta passed away unexpectedly in June 2009, not even nine years old. Lempi seemed lonely as the only dog in the house so in October 2009 I acquired Kielo (C.I.B/NORD/FI/SE/NO/BALT/EE/LV/LT/RU/RKF/BY/RO/BG/BG GR/CY/GE/MD/MK/ME Ch BALT/EE/LV/LT VCh JW '10 BYW '15 Shacal Rosmariini), a Hertta granddaughter who was co-owned together with Tapio Kakko (Jäkäläkummun). After I lost Lempi in December 2011, I had to find company for Kielo - enter Vuokko (C.I.B/FI/SE/EE/LT/BY Ch BALT/EE/LV/LT Junior Ch FI Veteran Ch Lapinpeikon Namupala). Vuokko was co-owned with her breeder Katja Hietanen (Lapinpeikon). I managed to breed for 20 years and raise 25 litters before keeping a puppy bred by myself at home! Born in September 2021, Salli (FI Junior Ch Cantavia Ruusukulta) comes from a litter whose pedigree I specifically tailored to my liking. In addition to these five dogs that have lived with me, over the past years I have had the pleasure of owning and showing some wonderful canines, all of which are pictured and presented in detail in the My dogs section. I want to take this opportunity to thank the breeders and co-owners of these dogs and anyone else involved for making this possible.

The Cantavia prefix was established in 1998, however, the first litter was not born before in 2001. In 2016 I was granted the Vuolasvirta award (№ 1046), which is the highest recognition bestowed on a breeder by the Finnish Kennel Club. I collected the points needed for the award straight with my first ten litters. On average, I only breed one litter a year, so I have puppies available on occasion only. I usually keep a bitch puppy from every litter and place it out on breeding terms - this way I can increase my breeding stock without having to keep that many dogs in the house.

In 2021, I received the Finnish Kennel Club's bronze pin as a mark of recognition for my years of being active in the breed club and in dogdom in general. What is more, I am a trained ring steward and have taken the following courses offered by the Finnish Kennel Club:

Basics of dog breeding
Advanced dog breeding
Dog breeding today (2015)
Dog breeders' day (2019)
Dog breeders' event (2022)
Canine anatomy and movement
Fundamentals of dog judging
Basics of breeding consulting (2016 & 2023)
Advanced breeding consulting (2019)
I am a member of Finnish Dog Breeders Club SuKoKa. In addition, I have been a member of the Breeding Committee of the Lapphund Club of Finland for a number of years now and was the chair between 2015 and 2017. I was also the contact person for our international members for about 15 years, and a member of the committee that put together the book Dogs of Lapland - Cheerfully Present. I also infrequently contribute to the Lapinkoira magazine of the club. In early 2018, I got qualified to perform conformation examinations for Finnish Lapphunds as one of first three ever to be approved by the club. As of January 2023, I am approved for Lapponian Herders as well.