We are finally back online! Lots of stuff is still missing - will keep updating the site little by little whenever time permits.

Recap of the last half of 2012: Netta's puppies moved to their new homes in the autumn: owned by the Jäätuulen kennel, Varpu is placed out on breeding terms and lives in Kouvola with her flatmate Koda. Topi moved to Liedakkala while the Valkeakoski-based Sisu is a remote team member of the Usvakallion kennel. To our great sorrow, the fourth puppy in the litter had to be given sleep at the age of one month, and unfortunately Topi faced the same fate at the end of January 2013 after having some ups and downs with his health. Copies of their autopsy reports are available here: bitch puppy (in Finnish only) and Topi (who is called a Siberian Husky in the report...). Topi's family did everything they could to save the little one's life, which I am eternally grateful for. A big thank you to Netta's owner Pia and her family as well for taking care of the litter!

A couple of 2012 show results: Autumn Specialty of the Lapphund Club of Finland was held at Laukaa 21 Oct. Koda was graded Excellent by Pekka Teini while Kielo got a fourth place with a CQ grading in the champion class under Markku Kipinä. At Seinäjoki Int'l, Kielo went runner-up to best bitch (with a res CACIB) under breed specialist Eija Lehtimäki. A couple of appearances in international rings were made, too, as Vuokko, piloted by Pirjo Kivijärvi, took her very first title in the form of the Belarussian junior championship at Minsk on 24-25 Nov. She took junior BOB wins both days under Hassi Assenmacher-Feyel and Eugene Yerusalimsky. Nuuk travelled to Saint Petersburg on 15 Dec to finish his C.I.B and Russian titles, and also went BOB under Lyubov Terentieva. Thank you ever so much for these wins Pirjo!

Nasti took part in a temperament test in Raisio 29 Sept. Sirkka Lempinen and Irene Puputti gave Nasti a very nice 156 points, and he is gun-sure, too. Thank you Johanna and Jocke!

The following health checks were done: Ruska's hip score is C/B and elbow score 0/0 (the x-rays also revealed a lumbosacral transitional vertebra), Minea's hips are C/C and elbows 0/0, and Raiku has clear eyes.

Then the year 2013 in a nutshell:

Sired by Murustiinan Aamos, Kielo had her first litter of five bitch puppies 9 Aug. Ronja lives in Rovaniemi, Vappu in Jääli and Halla in Oulu, whereas Kilpi travelled across the border to Sweden and is owned by the Skarjaks kennel. Siehkku went out on breeding terms and is now the youngest of the Katajavaaran pack in Suomussalmi.

In addition to Siehkku, we have another new member in the Cantavia team: Jäkäläkummun Yliveto aka Myy (pictured below) moved into Jonna Silvennoinen's household in March. Myy is sired by Cantavia Piimäsuu and I hope to retain the lines of my P litter in Myy's progeny.
Show results: Nasti's first open class outing was in Turku Int'l 19 Jan and he added yet another VG grading to his merits, this time under Ewa Nielsen of Sweden. Photo by Petra Kahila.
Vekku had another go at finishing his champion title at Keuruu 2 Feb under breed specialist Tapio Kakko and, just like last time, was defeated by a non-champion by a narrow margin and placed runner-up to BD with a res CC. Better luck next time!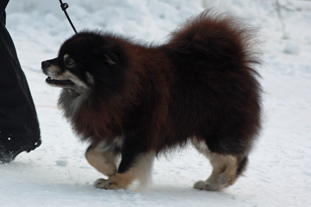 Varpu was shown in the puppy class in Kouvola 2 Mar and got a third place under Esa Ruotsalainen. Photo by Aino Vakkilainen.
On 2-3 March, my trusty companion Pirjo Kivijärvi and I popped out to Tallinn, Estonia. This time we brought Nuuk, Kielo and Vuokko with us. On Saturday, the four Lappies entered were judged by Katarzyna Fizdon, who took a liking to our junior Vuokko and gave her not only junior BOB but also BOB over the adults. Vuokko got the junior CC and thereby her Estonian junior champion title, while the "real" CC was handed to Kielo who was runner-up behind Vuokko. Kielo added Estonian and Baltic championships to her list of merits. Nuuk went BOS and also finished his Estonian and Baltic titles. On Sunday, Kresten Scheel preferred Kielo over Vuokko, so BOB went to Kielo while Vuokko took her second junior BOB of the weekend. Nuuk was again BOS. The picture below (© Pirjo Kivijärvi) shows Vuokko and I having a pep talk just before the group judging.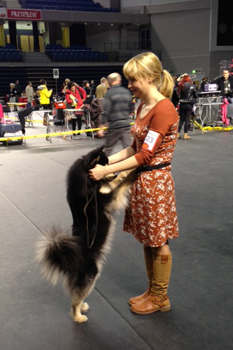 Our team was represented at two shows 24 Mar: Reino Korpela was judging at the Rautalampi group show where Sisu had a very nice debut going Best Puppy out of the three Lappie puppies entered. His mum Netta won the champion class. I myself was at the Spring Specialty of the Lapphund Club of Finland with Kielo, who took a fourth place in the champion class.
The mother-son team was shown again a week later at the Korpilahti group show under Juha Putkonen. Sisu repeated his win from the previous weekend (this time no other puppies entered though), whereas Netta kicked it up a notch and this time not only won the champion class but also went runner-up to best bitch.
Another debutee was Majuri who made an appearance at the Vaasa international show 13 Apr under Eeva Resko. He was graded Satisfactory because of excess weight and lack of ring training. These two things are easy to fix and then it is just a matter of trying again! Photo by Sanni Virtanen.
Vuokko and Netta travelled to the Baltics with Pirjo Kivijärvi on 20-21 Apr. On Saturday they were in Talsi, Latvia, where Tijana Konrad of Serbia chose Vuokko as her junior BOB, which made Vuokko a Latvian junior champion. Netta went BOS and was thereby crowned as a Latvian champion. Sunday's show was held in Panevėžys, Lithuania, where Vuokko scored some very nice results again: she was BOS & junior BOB and thereby finished her Lithuanian and Baltic junior titles under Jūratė Butkienė! Netta got a Very Good grading. Thank you Pirjo and Heini! Vuokko pictured below in Lithuania by Eija Pyökäri.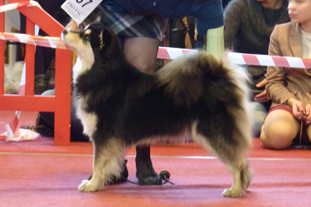 On 4 May, Vuokko and I made a road trip to the Laihia group show and were joined by Jippo and his owner Päivi. Eighteen Finnish Lapphunds were put through their paces by Sakari Poti and Jippo went all the way to runner-up to BD taking his first CC - congratulations Jippo and Päivi! Vuokko did not do too badly either: her first outing in the junior class in Finland resulted in a second place and CQ grading out of seven junior bitches. Photos by Päivi Riihimäki.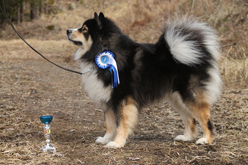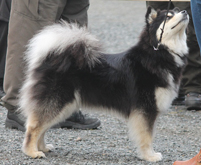 On 18-19 May, I made my way to Piteå, Sweden with Vuokko and special guest star Sulo aka C.I.B/FI Ch Helsinki JW '10 WW '12 Jäkäläkummun Ällintälli in the boot. And what a star Sulo was: at the all-breed show on Saturday he went BOB under Pirjo Aaltonen finishing his Swedish championship! Vuokko took a creditable third place in the bitch challenge and the reserve CC. On Sunday we attended a specialty arranged by the Lapphund Club of Sweden and the results got even better: Sulo was again the brightest star and went BOB and runner-up to BIS under Elisabeth Spillman, while Vuokko put on her best performance taking best bitch and BOS! She now has a Swedish CC tucked away and will become a champion of Sweden in case she finishes a championship in another Nordic country. There were around 50 Finnish Lapphunds in the ring, so this was a very nice double for Sulo and Vuokko.
Sisu hit the junior classes at Karttula 15 June with an EXC/3 placing under Jari Fors. Meanwhile, Nuuk attended a group show in Vaasa and got a third place in the dog challenge under Outi Piisi-Putta.
Sisu's second junior class show was in Isokyrö on 3 Aug and he got a Very Good grading from Sakari Poti.
The entire summer almost slipped by without me going to one single dog show, so in August I pulled myself together and entered two first-timers, Roni and Sylvi, to the Raahe group show 10 Aug. Breed specialist Eija Lehtimäki was judging and she placed Roni runner-up to best dog with a reserve CC, whereas Sylvi hit the jackpot by going BOB, winning the group under Matti Palojärvi and finally Best in Show under Tanya Ahlman-Stockmari! Photo by Tiina Ahvenlampi.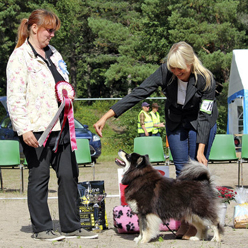 Some group shows on 17 Aug: Nuuk third in the dog challenge at Kajaani under Perttu Ståhlberg, Jippo VG/3 at Kauhava under Leni Finne, and Varpu G at Kouvola under Pirjo Hjelm.
Autumn Specialty of the Lapphund Club of Finland was held in Oulu 6 Oct. As I was the chairman of the show committee, I could not show any dogs, however, Myy and Aarni were shown by their co-owners: Myy went third in the puppy class with a prize of honour under Aila Lehmussaari and Aarni was graded Good by Marja Talvitie. Photos by Anni Holappa (Myy on the left) and Titta Repo (Aarni on the right).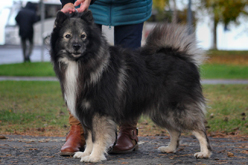 The unstoppable Pirjo travelled to Minsk, Belarus on 23-24 Nov with Nuuk and Vuokko, and the two started out on the Saturday by doing the double under Ligita Zaķe of Latvia. BOB went to Nuuk (who took his BY Ch title) while Vuokko got BOS, CC and her very first CACIB! Sunday was a repeat of Saturday under Tino Pehar from Croatia. This second CC made Vuokko a Belarus champion - what a nice way to celebrate her second birthday! Thank you Pirjo once again.
As for activities other than showing, not much has happened this year, with Jippo's temperament test being the only exception to the rule. Held in Lapua on 28 July, Jorma Lankinen and Sirkka Lempinen awarded Jippo with 139 points & gun-sure status. Thank you Päivi for having your boy tested.
This year's health examinations: Roni had clear eyes (Jan '13) but unfortunately a hip score of D/D. Nuuk (Mar '13), Aarni (July '13), Netta (Sept '13), Sisu (Sept '13), Jippo (Oct '13), and Kukka (Dec '13) got clear eye certificates, too. Sisu and Jippo are both free from patella luxation and Jippo is also free from heart murmurs. We are currently waiting for Jippo's hip and elbow scores back from the Finnish Kennel Club. There are even a couple of fresh gene test results to share: Jekku, Kielo and Nuuk all have a Normal/Clear Pompe disease status, whereas Sisu was slightly less lucky with prcd-PRA and turned out to be a Carrier. A big thank you to the active owners!