News & updates 2017

24 Dec 2017
Unfortunately I did not have a chance to send out any Christmas cards this year, so I am wishing all Cantavia Lappies and their owners happy holidays here on the website instead!
14 Dec 2017
Delighted to announce that Kira is confirmed in whelp to Orso-Farm Kisälli! The babies are due around New Year's Eve.

Helsinki Winner/Nordic Winner/Finnish Winner 2017 shows, Helsinki Fair Centre 8/9/10 Dec: Hali debuted in the champion class and was graded Excellent each day under Paula Heikkinen-Lehkonen, Sakari Poti and Kurt Nilsson.
2 Dec 2017
Nuttu's first health test results are in: her hip score is A/A (Finnish Kennel Club vet's remark: slightly shallow acetabulums), elbow score 0/0, and her eyes are clear. Super happy!
24 Nov 2017
Sylvi and Usva have been tested for Degenerative Myelopathy: both are carriers.
11 Nov 2017
Tartu International, Estonia 4/5 Nov: Mixed feelings - while I hate to think that Kielo is actually old enough to be shown in veteran classes, it is my favourite class to show in and I look forward to some fun outings with Kielo. As for her veteran debut though it was Pinja Lämsä who did the honours and took Kielo to Estonia in the hope of making her an Estonian veteran champion. Kielo did it in style going Best Veteran in Breed both days, and, what is more, she took best bitch and BOS on Sunday. Way to go Kielo! Thank you Pinja for these fantastic results. Kielo is pictured below with BOB winner Täplätassu Joonatan (photo by Tanja Kaurila). The judges were Perttu Ståhlberg (Saturday, 9 Finnish Lapphunds) and Jean-Claude Klein (Sunday, 8 Finnish Lapphunds).
Iita has been eye tested clear and her patella score is 0/0. Thank you Maarit!
15 Oct 2017
Harstad International, Norway 8 Oct: Svea was graded Excellent and won the intermediate class under Mats Jonsson.

Health news: litter siblings Jekku and Viivi have had tumours (Jekku one, Viivi two) on their abdomens removed recently. Both of them turned out to have grade I mast cell tumours. Speedy recovery to both! Ruska, who has suffered from exercise-induced coughing and gagging for some time, has now been diagnosed with a pollen allergy. Finally, Mosku, who turned one year old this week, turned out to be monorchid.
16 Sept 2017
Usva was temperament tested at Haukipudas on 10 Sept by Leena Berg and Tapio Knuutinen. She scored 95 points and was deemed gun-sure.

Nasti and Varpu's puppies have settled in nicely in their new homes and have got their personal pages under Litters. Hilla was placed out on breeding terms and can now be found under Co-owned dogs. Thank you Varpu's owner Milla for going through the puppy project!

Photo updates: Nasti's progeny page and Hali. Thank you Reija and Merja!
26 Aug 2017
Tallinn International, Estonia 19/20 Aug: Viima, his owner Leila, Vuokko and I visited our southern neighbour, lured by the possibility of competing at two international shows over one weekend (12 Finnish Lapphunds entered both days). Saturday saw Greece's Michael Papadatos judging and Viima was placed as runner-up to BD with a reserve CACIB. Vuokko (who in all honesty was looking rather shabby with odd tufts of undercoat sticking out here and there) was graded Excellent and got a second place in the champion class. Sunday's judge Iren Naarits of Estonia also thought highly of Viima, placing him third in the dog challenge. Vuokko, however, hit the jackpot and went Best of Breed winning her third CACIB towards her international title and, of course, the CC, which gave her her Estonian champion title! What is more, she also qualified for Crufts 2018. Thank you Leila for taking this trip with me! Photo by Leila Hämäläinen.
On a sadder note, lovely Jeppe is no longer with us. He had a tumour in his mouth and had to be given sleep. My condolences go out to Jeppe's owner Minna.
16 Aug 2017
Great news from Sweden: Svea's hip score is A/A, elbow score 0/0 and her eyes are clear. Thank you Elisabet and Sandra for having Svea examined!
15 Aug 2017
Överkalix all-breed show, Sweden 12 Aug: brothers Viima and Hali met in the open class for the last time and got the following results under Norway's Per-Harald Nymark: Viima EXC/3 and Hali (pictured) EXC/2 CQ followed by a fourth place in the dog challenge. Photo by Merja Koivuluoma.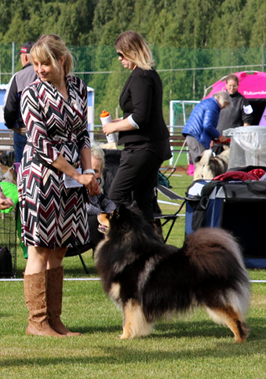 Senni eye tested clear - thank you Rebecka!
6 Aug 2017
Mustasaari group show 5 Aug: Vuokko's boys are on fire! This time it was Viima's turn to shine as he went BOB and Group-3 under Tapani Pukkila out of an entry of 15 Finnish Lapphunds. Congratulations Leila and Viima! Photo by Pirjo Kivijärvi.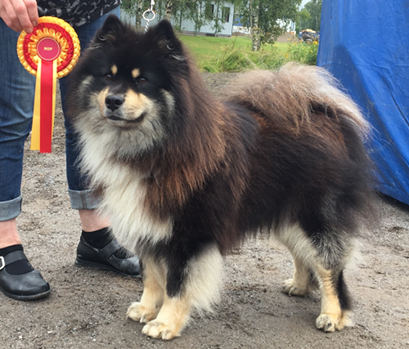 Kokkola group show 6 Aug: Now just one CC shy of his Finnish title, Viima came very close to finishing it by taking a reserve CC under Reino Korpela. He placed fourth in the dog challenge out of 26 Lappies entered. What a great weekend for Viima!
29 July 2017
Saarijärvi all-breed show 23 July: Hali attending the Saarijärvi all-breed show was well and truly kept under wraps from me - I only found out when a picture of a Best of Breed rosette (won under Paavo Mattila) appeared on my phone! After receiving the good news I went online to watch the live stream from the group competitions and, much to my delight, not only witnessed Hali go fourth in the Finnish native breeds' BIS competition (Paavo Mattila) but also win the spitz group (Paula Heikkinen-Lehkonen)! Big congrats on a fantastic day! Photo by Merja Koivuluoma.
19 July 2017
Hyvinkää all-breed show 15 July: Hali, who was never considered a show prospect as a puppy, is now a Finnish champion! When acquiring him, the owners specifically said they had no interest in dog shows whatsoever, however, they caught the show bug later on and the rest is proverbial history. Hali was given his crowning CC by Juha Putkonen, who also placed him as BD & BOS. My heartfelt congratulations and thanks to owners Merja & Mika as well as handler Katja! Photos by Merja Koivuluoma.
4 July 2017
Nasti and Varpu's babies (two boys and a girl) are here! Photo by Milla Pöntinen.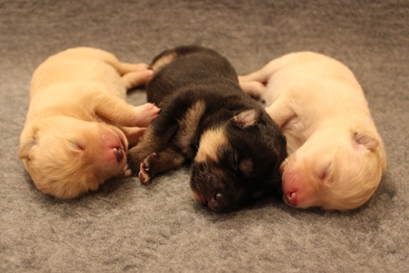 Vännäs International, Sweden 18 June: Svea VG/4 in the junior class under Gunilla Skallman.
Rovaniemi International 25 June: Kuura third in the bitch puppy class and Nuuk VG/1 in the veteran class under Katja Korhonen.
Gällivare International, Sweden 30 June: Hali won the open class and placed fourth in the dog challenge with a reserve CC. Svea was graded VG while Vuokko's result was EXC/2 in the champion class. Finnish Lapphunds were judged by Perttu Ståhlberg. Photos of Hali (left) and Vuokko (right) by Merja Koivuluoma, Svea's photo by me.
Viima was MH temperament profiled (a type of temperament test available in Finland and Sweden) at Saariselkä on 1 July by Jorma Kerkkä and Anne Kuivinen. Viima behaved pretty much as expected and no real surprises came up. Thank you Leila!
In June we had to say goodbye to two well-loved chaps, namely Quinto and Aarni. My sympathies go out to the owners.
Senni's hip score is C/C and elbow score 0/0. Thank you Rebecka!
17 June 2017
Piteå all-breed show, Sweden 20 May: Svea VG/2 in the junior class under Susanne Nilsson.

Bodø all-breed shows, Norway 3/4 June: Svea attended two back-to-back shows and her results were VG/3 under Liz-Beth Liljeqvist (Saturday) and EXC/3 under Calin Margineanu (Sunday).

Kauhajoki group show 4 June: Hali was Reino Korpela's choice for runner-up to BD. More importantly, he won his second CC! A big congratulations to Hali & owners. Photo by Merja Koivuluoma.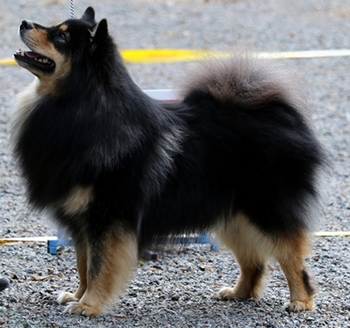 Venray all-breed show (Pinkstershow), the Netherlands 4 June: Seija's first time in the open class went very well as she took a second place in her class followed by a third place in the bitch challenge under Ineke Zwaartman-Pinster. Photo by Nanda Thoer-Zweegers.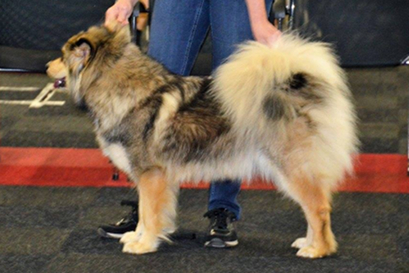 Kuusamo group show 11 June: Finnish Lapphunds were judged by Tuula Pratt and Viima's result was EXC/2 while Nuuk went fourth in the dog challenge and took BOS veteran. Photo of Viima by Pirjo Kivijärvi.
29 May 2017
Puppies on the way! I am excited to announce that the first batch of fourth-generation Cantavia puppies is in the making and expected to arrive late June. The parents-to-be are BY Ch BYW '15 Cantavia Filttihattu (Nasti) and Cantavia Ähäkutti (Varpu). Photo of the lovebirds by Milla Pöntinen.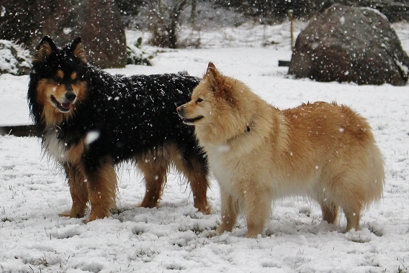 Sastamala group show 1 May: Both Jippo (pictured left) and Jekku (pictured right) graded Excellent by breed specialist Jukka Kuusisto, and both of them placed third in their classes. Jippo also got a CQ. Photos by Sami R.
Oulainen group show 5 May: Vikke (who has a new profile picture courtesy of Merja Koivuluoma) did great at his first show winning the junior class with a CQ and placing third in the dog challenge. He was also awarded the reserve CC. Hali got a second place & a CQ in the open class. The judge for Finnish Lapphunds was Paula Rekiranta. Photo of Vikke (left) by Merja Koivuluoma and Hali (right) by Anu Karhukorpi.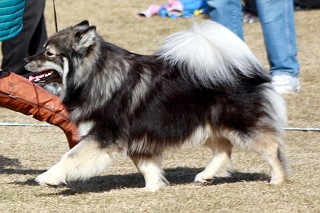 Koski group show 13 May: Karpo was graded Very Good by Matti Palojärvi and won the intermediate class.
Muurola group show 20 May: Esko Nummijärvi took a liking to Viima and placed him as Best of Opposite Sex with a CC! Nuttu did well, too, getting an Excellent grading and placing third in the junior class.
Sodankylä group show 27 May: Viima (left) graded VG and Nuttu VG/3 (right) under Leila Kärkäs. Photos by Anni Holappa.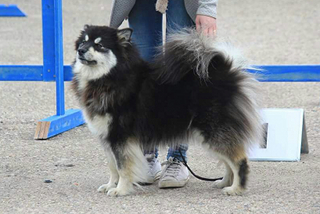 Nasti's progeny page and picture gallery updated. Thank you Riikka & Jocke for the photos!
29 Apr 2017
Tervola group show 15 Apr: Hali fourth in the dog challenge under Matti Palojärvi. Photo by Elina Korva.
Hirvensalmi group show 15 Apr: Varpu VG/2 in the open class under Paavo Mattila.
Pello group show 22 Apr: 47 Finnish Lapphunds entered under breed specialist Saara Sampakoski, Viima (pictured left) was graded EXC and Ronja graded VG, while Papu (pictured right) managed a really nice third place in the bitch challenge and got the reserve CC. Photos by Venla Oinas.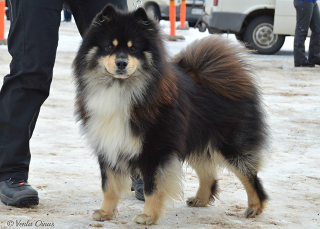 Jekku and Jippo were tested on a decoy bear to see their reaction on wildlife animals. The boys did a decent job, however, let us hope they will never have to bump into a real bear!
Otso is DM Normal/Clear. Thank you Linnea for this good news.
31 Mar 2017
Unfortunately Usva is not in whelp, so no puppies this spring.

Spring Specialty of the Lapphund Club of Finland, Seinäjoki 11/12 Mar: On Saturday, Varpu underwent a conformation examination organised by the Breeding Committee of the Lapphund Club of Finland and was "Approved for breeding". The actual show took place on Sunday and we showed quite a few dogs under breed specialist Eija Lehtimäki (dogs) and Anneli Pukkila (bitches): Kuura, aged five months and two days, was shown in the huge minor puppy class. No placement but she did have a blast in the ring even though she is still very much a kid. We had four dogs in the open class and they were graded as follows: Koda G, Kira VG, Iita VG, and Varpu G. Finally we showed two champion girls out of which Kielo was graded EXC and Vuokko (pictured below) placed fourth with a CQ. Thank you Kati Keränen for handling Vuokko to perfection!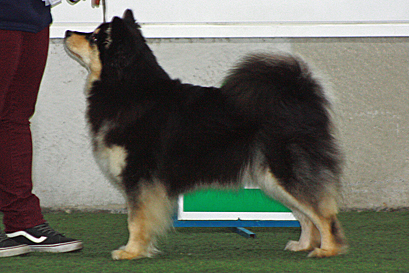 Seinäjoki group show 18 Mar: Nuuk fourth in the dog challenge & Best Veteran in Breed, and Svea VG/2 in the junior class under Marjatta Pylvänäinen-Suorsa.
Korpilahti group show 19 Mar: Nuttu won the junior class with a CQ and took a fourth place in the bitch challenge under Perttu Ståhlberg. Photo by Viivi Saarikko.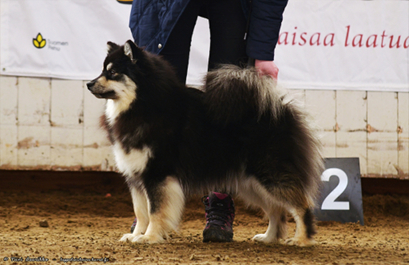 Siehkku has had an epileptic fit. Thank you Pirjo for sharing this news, however disappointing. On a more positive note, Vuokko, Koda and Varpu were eye tested at the Seinäjoki specialty, all three of them clear. Vuokko also had her heart auscultated, and Koda and Varpu had their patellas examined (0/0). There are some great gene test results to report as well: Myy and Iita are DM Normal/Clear, and Iita is also prcd-PRA and Pompe disease Normal/Clear. Thank you everyone for having your dogs examined.
Nuttu and Seija have new profile pictures, and Papu's progeny page as well as Nuttu's gallery updated.
15 Feb 2017
Puppy news! We hope to have a litter in the making by Metsäruusun Arska ex PAIM-T Cantavia Valopilkku (aka Usva).

Turku International 21 Jan: Kukka's first outing in the veteran class, she was graded Excellent and placed fourth by Samuel Carlid.

Kuopio Spitz Specialty 28/29 Jan: Hali and Usva underwent conformation examinations organised by the Breeding Committee of the Lapphund Club of Finland. The judging panel consisted of Mari Lackman, Marja Talvitie and Tapio Kakko, and both dogs were "Approved for breeding". The judges at the specialty show on Sunday were Markku Kipinä (dogs) and Tuula Pratt (bitches), and our results were the following: Hali EXC/4 in the intermediate class, Nuttu EXC/2 CQ in the huge junior class of 17 bitches, Usva VG and Papu EXC in the open class. Photos of Hali and Usva by Jenna Sergejeff.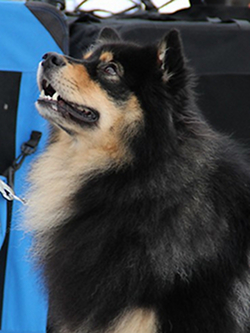 Health news: Koda has had a few epileptic fits. So far they have not been very frequent and Koda is not on medication. Thank you Riitta and Milla for sharing this information. Jippo's hips were recently re-xrayed to see if there were any changes - luckily the situation seemed stable and there were no signs of arthritis. The KC score remained the same as before (C/D). Ronja has been eye tested clear (apart from some harmless minor changes around the nucleuses of the lenses) and her patella score is 0/0. She also had a heart auscultation and turned out to have a grade 1 heart murmur. Nasti has been eye tested clear as well. And finally some gene test results: Kira is prcd-PRA and DM Normal/Clear while Hali is a prcd-PRA carrier. Thank you everyone for having your dogs examined.
14 Jan 2017
Otso DNA tested Normal/Clear for prcd-PRA and Pompe disease. Thank you Linnea!
9 Jan 2017
Helsinki Winner & Finnish Winner 2016 shows, Helsinki Fair Centre 10/11 Dec: An event I had looked forward to for months - this time it would not be just another dog show but I would be getting my long-awaited Vuolasvirta award! The highest honour granted to a dog breeder by the Finnish Kennel Club, it requires breeding at least ten litters of high quality. I am now a member of an exclusive club of only 12 Finnish Lapphund breeders that have achieved the award since its inception in 1979. Since I decided to fly to Helsinki instead of driving, I did not bring any dogs with me, however, the Helsinki-based owners of Karpo kindly let me borrow him for the big ring where the award ceremony took place. What a proud moment it was to march into the ring with a homebred dog and collect the award from the Finnish Kennel Club representatives! Afterwards I was greeted by the chair of the Lapphund Club of Finland, Marjo Berg, who handed me a Lapland-themed flower bouquet in a beautiful bespoke vase and joined me for coffee and cake courtesy of the Finnish Kennel Club. I would like to extend my thanks to the Lapphund Club for this gesture - the vase will certainly take pride of place in my trophy case! Karpo was also shown in the breed ring under Tapio Kakko (Saturday) and Saija Juutilainen (Sunday) and got VG and G gradings in the JD class. Thank you everyone for this special day and Anu & Jussi in particular - Karpo and I had a blast in the big ring!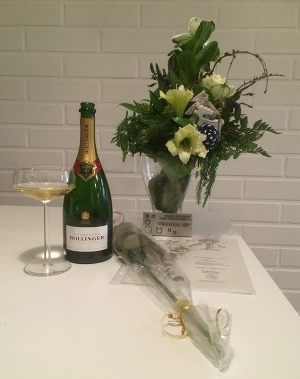 December was not just about celebration as some sad news reached us last month: Roni had to be given sleep at the end of November as he was suffering from arthritis, eczema, and hypothyroidism. Then a couple of weeks later Edi suddenly got into a weak shape and passed away within a few days. It turned out he had liver tumours. My condolences go out to the owners.
Hali has been health tested with excellent results: hip score A/A, elbow score 0/0, patella score 0/0, eyes and heart auscultation clear. Thank you Merja & Mika!
New pages and photo updates: Halla's puppies have got their own pages in the Litters section and Kuura has been added to Co-owned dogs. Karpo's profile picture updated, and a couple of recent shots added to Nuttu's gallery.