News & updates 2019

8 Dec 2019
Pello group show 23 Nov.: Vappu went Best Puppy in Breed and Ruusu, on her last intermediate class outing, VG/4 under Perttu Ståhlberg.

Helsinki Winner Puppy Show 2019/Finnish Winner Puppy Show 7/8 Dec.: Bella's co-owner, bitten by the proverbial dog show bug, took Bella to Helsinki for the Winner puppy shows. Saturday saw Erika Häkkinen judging and she placed Bella second in her class, while on Sunday Bella was unplaced by Jaana Hartus.

Sadly we have had to say farewell to two great ladies and one fantastic chap this autumn: Miina and litter siblings Doris and Rekku had to be given sleep due to old age. My condolences go out to the owners.

Noki's photo page updated - thank you Outi Uusitalo!
13 Oct 2019
Kajaani puppy show 5 Oct: Bella did well at her very first show under Katja Korhonen: she showed beautifully and got a second place in baby puppy class.

Autumn Specialty of the Lapphund Club of Finland, Kajaani 6 Oct: Bella repeated her previous day's performance and went second in baby puppy under Silja Jokinen while her sister Vappu took the third place. We also showed three juniors: litter brothers Biegga and Luka, who attended their first show, and Hilppa. The boys were put through their paces by Silja Jokinen, who gave Biegga a Very Good grading while Luka was graded Excellent. Thank you Sanna Parviainen for your handling help! Hilppa, who was slightly on the chubby side, was graded Good by Mari Lackman. Photos courtesy of Petri Hallberg - top left Bella, top right Vappu, bottom left Luka, bottom right Hilppa (unfortunately no photo of Biegga).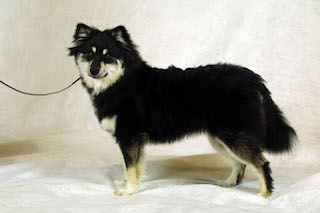 Hilppa participated in a decoy bear test as her co-owner Taru was curious to see how she would react if faced with a large wild animal. Hilppa did bark but was not afraid or did not try to approach the bear foolhardily. Well done Hilppa!
Ruusu's first health test results came back and it is all good news! Her hip score is A/A, elbow score 0/0 and she is free from patella luxation.
Noki has a new profile picture and her gallery has been updated. Thank you Taru!
28 Sep 2019
Noki, who moved down south earlier this month to join the Famolas Finnish Lapphunds & German Spitz, has got her own page.

Photo updates: Smokey, Sylvi's progeny (R litter), and Bella's gallery. Thank you everyone who let me use their photos on the website!
24 Aug 2019
Överkalix all-breed show, Sweden 18 Aug: 30 Lappies entered for Tomas Rohlin, out of which two were representing my team. Hali, graded Excellent, was unplaced in the competitive champion class, while Ruusu (still very much naked, which the judge was happy to crack a few jokes about!) got a second place in the intermediate class and went fourth in the bitch challenge. Photo of Hali by Pirjo Kivijärvi, Ruusu's photo by me.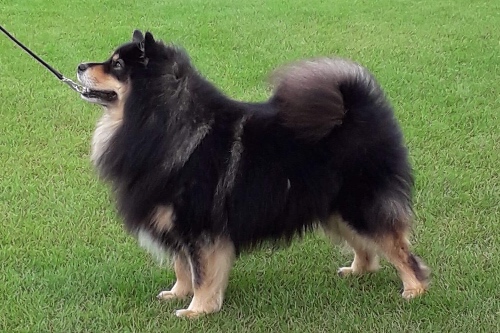 Luka's photo updated - thank you Matleena!
17 Aug 2019
Seija was eye tested clear yesterday. Thank you Diane & Piet!
4 Aug 2019
Piteå all-breed show 13 July: Svea graded Excellent and placed second in the open class by Anita Whitmarsh.

Kemi all-breed show 20 July: Hilppa graded Very Good and placed second in the junior class by Irina Poletaeva.

Ristijärvi group show 27 July: Hali won the champion class and got a second place in the dog challenge, while Nuuk, almost 13 years old, went second in the veteran class. Alma was graded VG and placed second in the junior class and Ruusu, who is completely out of coat, was also graded VG and got a third place in the intermediate class. As there were four dogs present, we were able to show a team, which went Best of Breed and second runner-up to Best Team in Show. Thank you owners and handlers for sticking around on such a hot day! Both the breed and group final were judged by Matti Palojärvi.

Ii group show 3 Aug: Hilppa Very Good/2 under Kurt Nilsson.

There are new photos in the galleries of Alma and Hilppa. Pictured below is Kira's puppy at the age of two weeks.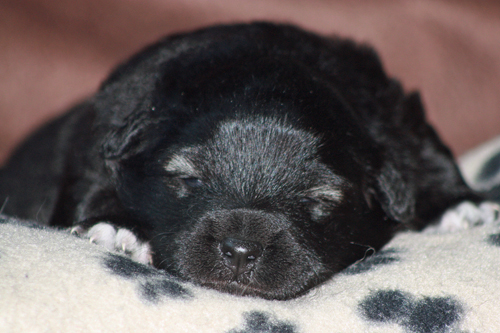 19 July 2019
Samuli and Kira's singleton baby is finally here! It is a girl, coloured black with white markings.

Oulu Nordic & International shows 13/14 July: on Saturday, Hilppa was graded Very Good and managed a very nice third place in a large junior class under Arvid Göransson, while on Sunday she was graded Good by Teuvo Kangas.
9 July 2019
Vikke's MyDogDNA report is now available: he is Pompe disease Normal/Clear and DM Normal/Carrier (prcd-PRA Normal/Clear by parentage).
7 July 2019
Kira was x-rayed and she is indeed only expecting one puppy, which will be arriving in about one week's time.

Alma and Ruusu's galleries updated with photos taken by Paula Martiskainen at the Sotkamo group show. Thank you Paula!
22 June 2019
Puppy news! Kira is in whelp to Staalon Xamuli (according to the ultrasound, there is just one puppy though).

Sotkamo group show 8 June: 25 Lappies entered for breeder judge Katja Partanen, three of which were from my team. First up was Nuuk, who was graded Excellent and got a second place in the veteran class. I had entered my junior girls: Alma was graded Very Good, while Ruusu provided the biggest surprise of the day by winning her first CC, Best of Breed and a Group 3! Thank you Pirjo Kivijärvi for handling Ruusu for me while I was showing Alma, and Paula Martikainen for the photo (also pictured is Usvatassun Aikavintiö, Best Opposite Sex).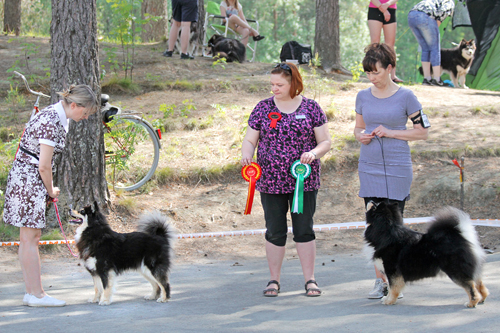 Bodø all-breed shows, Norway 15/16 June: on Saturday, Svea took a so-called minor CC and went BOS under Ratibor Cekić. Sunday was not too bad either as Svea won her class and was placed third in the bitch challenge under Jovica Golubović. Well done Svea!
6 June 2019
Vikke's health test results are in: his hip score is B/B, elbow score 0/0 and his eyes are clear. Vikke's gene test results will be available soon as well once we get his MyDogDNA report back from Genoscoper. Thank you Tuula and Matti!
25 May 2019
Piteå all-breed show, Sweden 25 May: Svea won the open class receiving a grading of Excellent and Champion Quality under Lisa Molin.

Also some heartbreaking news from Sweden: Kilpi is no longer with us. She had got extremely sick completely out of the blue and the only right thing to do was to let her go. Everything happened so suddenly and we have no answers as to what was wrong with her. The best guess (by a veterinarian) is that her spleen ruptured possibly because of tumours. My condolences go out to Kilpi's family.
19 May 2019
Taivalkoski group show 18 May: Hilppa, who was attending her very first show, won the puppy bitch class (with just one entry though) under breed specialist Tapio Kakko. Photo by Pirjo Kivijärvi.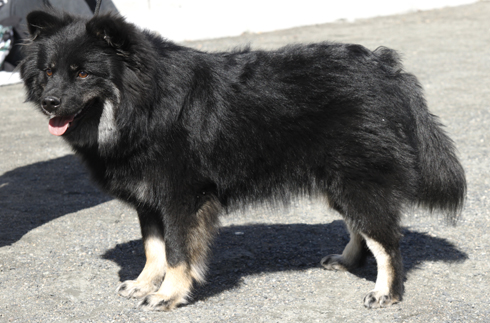 Ruusu and Hilppa have new profile pictures (thanks Pirjo!) and Ruusu's gallery has also been updated.
11 May 2019
Raahe group show 5 May: Alma had her ring debut in a miserable weather, however, showed like a pro! Graded Very Good, she won the junior bitch class of five under breed specialist Tapio Kakko. Photos by Taru Vallius.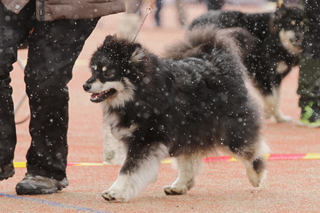 The Otso and Nuttu puppies are now in their new homes adjusting to their new families. Jehu (successor to Ropi) lives in Ii, while litter brother Pörri stayed here in Oulu. Owned by the Jäätuulen kennel, Vappu went out on breeding terms to live with the Kauniin Lappies. The last one to leave the nest was Bella, who I placed out on terms in Liminka. Photo by Merja Koivuluoma.
Vikke's profile picture updated and new photos added to Alma's gallery - thank you Taru!
10 Apr 2019
Riga International, Latvia 23/24 Mar: Hali, his owners Merja and Mika as well as her handler Katja drove all the way to Riga to attend two international shows, and they kindly took my Vuokko with them as well. On Saturday, Hali went third in the dog challenge while Vuokko, who was molting like crazy, was given a Very Good by Paula Heikkinen-Lehkonen. On Sunday it was Hali's turn to be graded VG whereas Vuokko got an Excellent but did not get any further. The judge on Sunday was Dmitry Prozorov. Thank you Merja, Mika & Katja!

Spring Specialty of the Lapphund Club of Finland, Espoo 24 Mar: it was lovely to see the two oldies Jippo and Kukka that I had not met for a while. Maija Mäkinen was judging the males while Veli-Pekka Kumpumäki did the bitches, and both dogs were graded Very Good. Photos by Sanna Parviainen.
Sadly, we have had to say goodbye to Viivi, who recently had an epileptic fit and was diagnosed with a brain tumour shortly after that. She would have turned ten years old today. Viivi was one of those puppies that I will always remember - I have never had another puppy with such a waggy tail. My condolences to Viivi's family.
13 Mar 2019
"Very soon" meant very soon indeed - the Otso ex Nuttu puppies are here! Born a few days early, the two boys and two girls are doing great, and so is their mum.
12 Mar 2019
Puppy news! Nuttu is well and truly in whelp by Otso and the pups are due very soon.

Some sad news as well - Siehkku had to be given sleep last week due to behaviour issues. It was not a light decision but had to be taken eventually as the situation was not easy either for Siehkku or the other dogs in the family. My condolences to Pirjo & family.

Hali has been eye tested clear. Thank you Merja & Mika! Speaking of Hali, he attended a reindeer herding camp on the Saajománnu reindeer farm at Pello last weekend and turned out to be a very clever herder! Photo by Hali's owner Merja.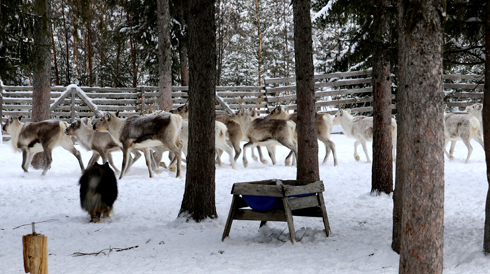 There is a new picture of Biegga on his personal page (photo by Niina Leiviskä).
24 Feb 2019
Hilla had her first health tests done and unfortunately turned out to have a grade 2 patella luxation on her left knee. As a result, I decided to exclude her from my breeding programme. It was bittersweet then to learn a few days later that her hip score is A/A and elbow score 0/0 (which, of course, I am happy about!).
31 Jan 2019
Alma, now eight months old, has a new profile picture. In addition, there are lots of new photos in her gallery, all thanks to the brilliant photographer Taru Vallius!